For shareholders and investors
Toward further development
PIOLAX group has been strengthening its competitiveness in technology, quality , and price by introducing SBU (Strategic Business Unit) in FY2002, which encourages clarification of strategies and a consistent system of development, production, and sales of each business unit.
Approved by the Tokyo Stock Exchange, PIOLAX was listed on its first section on Sep. 1st, 2004.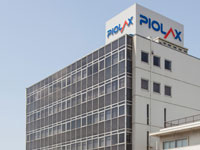 Business review for FY2017
With regard to the auto industry, one of the Group's most important markets, we have continued to exert a strong overseas presence in China and other countries. Despite the effects of an issue with completion inspection by unqualified personnel, exports were strong thanks to a weak yen especially in the first half of the year, and our domestic production increased by 3.4% to 9.676 million compared to the previous fiscal year.
In such a demand environment, the PIOLAX Group securely provided for our business partners' needs. At the same time, we have been continuously promoting sales expansion efforts, mainly in Japan, North America, and emerging countries. Thus, our net sales were 67.876 billion yen, an increase in profit of 3.601 billion yen (5.6%) compared to the previous fiscal year.
In terms of profits, though we promoted further streamlining, the cost burden of factors such as materials and labor increased. As such, our operating income was 10.220 billion yen, a decrease of 163 million yen (1.6%) compared to the previous fiscal year, and our ordinary income was 10.987 billion yen, a decrease of 442 million yen (3.9%). Our current net income attributable to owners of PIOLAX Inc. was 8.126 billion yen, an increase of 122 million yen (1.5%), thanks in part to a decrease in deferred income tax due to the US tax cuts.
With regards to the future economic outlook, while the Japanese government and Bank of Japan are expected to continue their economic policies and monetary easing, sluggish growth in consumer spending and slowdown in capital investment have been observed, and the costs of raw materials and labor are surging globally, so the market is likely to remain unpredictable. In the automotive industry, there are some new developments such as the rise of electric vehicles, but domestic automobile production is not projected to grow significantly due to slow domestic sales. In addition, while the US and Chinese markets are forecast to remain strong, we believe that competition will become even more intense in the emerging markets like ASEAN with the rise of local automobile manufacturers. In such circumstances, the PIOLAX Group will promote company-wide streamlining activities while promoting global sales expansion targeting domestic and overseas car manufacturers. As a result of this, we expect consolidated net sales of 67 billion yen, an operating income of 9.5 billion yen, an ordinary income of 10.8 billion yen and a current net income attributable to owners of PIOLAX Inc. of 7.2 billion yen.
It should be noted that the exchange rate for this report has been set at $1 US = ¥105.