Jobs
Design
"Springs" includes not only familiar coil-shape spring but also all other products as long as elasticity is used. For example, fastners and clips for car interior and engine peripherals are springs with plastic elasticity. There are 500 types of springs, totaling 1,600 products. Design these springs.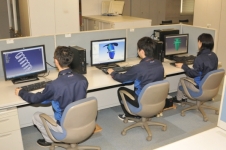 Research and development
PIOLAX's core technology is "elasticity." Your job will be to research and develop elasticity of, not only metals but also plastic, gas and liquid. Our air dampers, which use gas elasticity, hold the top share in the world market.
Production engineering
Establish mold designs and design standards required for production in a plant.
Quality control
Check whether manufactured products satisfy the design standards. This job includes suggesting measures if products fail to meet the standards.
Sales
Our products are used in a wide range of fields, such as automobile, OA equipment and consumer products industries. Introduce those products to customers and receive orders. In an automotive application, for example, sales staff work with customers from the designing stage of a new car model.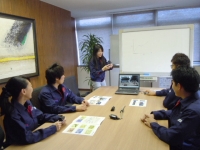 Message to students
What we would like you to remember, regardless the department you are assigned in, is that "our products are the technology that can be used in any place in the society." That means we can boundlessly develop our work, technology and products as a result of our efforts.
We will not demand your good idea soon after you join us, but you can make use of your idea wherever you work. We hope you will develop your skills and experiences together with us.