Automotive
Automotive
PIOLAX's automotive-related products hold the top share in the domestic industry. We promise to develop and supply "smaller, lighter, and more durable" products.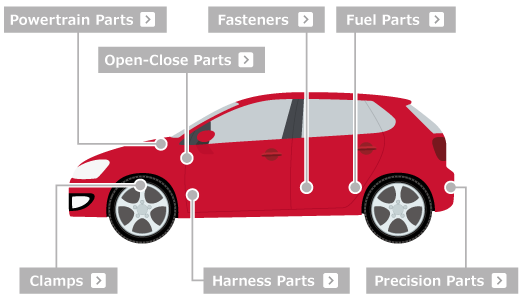 This includes the following products: Valves and fuel parts for filling, storing, and providing petrol, operator-friendly one-touch connectors for piping used around radiators (radiator water); compact filters for fuel and oil systems; evapo-tube ASSY made by combining valves and connectors with the invented resin tubes.
For these products, we have developed a delivery system to the countries around the world, including Japan, U.S., Europe, and Asia.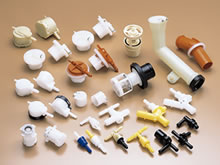 Various springs are used for transmissions (a mechanism to shift gears). These parts help use the engine power effectively and improve fuel consumption, and furthermore accelerate/decelerate smoothly in order for passengers not to feel uncomfortable. Snap rings are also used to hold parts.
Of these springs and snap rings, about 50 parts are used for a car (a single transmission). These products are delivered to both domestic and foreign manufacturers.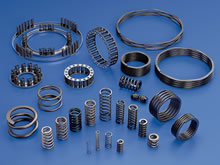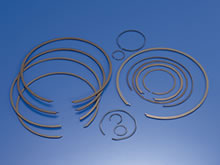 Our main products are air dampers and locks for glove boxes. The air dampers enjoy the largest share in the global market and are used worldwide. As for the locks, there are two types: one is the existing "center-fixed" locks and the other is locks "to be fixed on the sides of glove box", which were first commercialized in Japan.
Our locks also have the largest market share in Japan.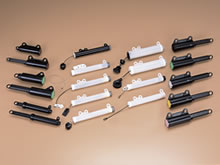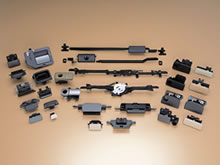 Various resin and metal fasteners are used to fix various automobile interior/exterior parts and connect pipes to car body. Interior parts include secret parts focusing on outward appearance, removable parts that can be reused, human body-friendly resin products with reduced VOC emission.
On the other, exterior parts include, as alternatives, easily mountable and retentive resin parts with high shear force, resin nuts that can be mounted from one direction, metal nuts used to fix temporarily to other parts.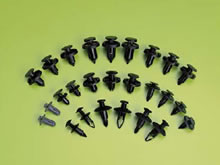 Harness Parts are band clips to bundle electric wires running through a car body like blood vessels, or to fix the wires to body panels.
All of our domestic and overseas group plants produce harness products, and they are mainly supplied to harness manufactures in each plant-located country.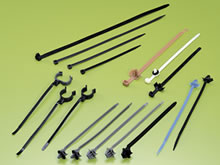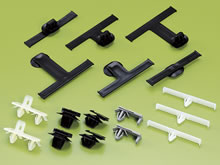 We have offered various products including metal parts, resin parts, and compound components of them. Metal parts include retainers and tension springs to hold wheel caps, etc. Resin parts include injection-molded parts for automotive interior/exterior, and the compound components cover visor-related parts and luggage board handles.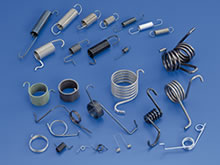 Hose clamps are used for fixing hose and pipe in a car to prevent water and oil from flowing, or hoses from slipping. Typical products are plate clamps and screw clamps. Plate clams feature the follower force against hose shot by heat using its own reaction force. We also have other products like double clamp (reinforced type) and clamp with holder for improving workability, holder-less clamp, and so on.
Screw clamps are used mainly in areas where the pull-out force is considered, because the clamps are designed to hold firmly using the axial force of screw.