Opening Ceremony for the New PIOLAX INDONESIA Plant!
No.2013_02 [ October 11, 2013 ]
Perkenalkan (nice to meet you)! The plant for Pt. PIOLAX INDONESIA is complete, and an opening ceremony was held. This is my first time to get published here, and here is my correspondent report!
After the start of construction(October 2012)
The company registration completed in 2012. On July 17, there was a ground-breaking ceremony. Now, finally, the construction of the factory building is complete. It is located in the third set of lots in Karawang International Industrial City (KIIC), which is 56 km east of the center of the capital, Jakarta. Indonesia has the fourth-largest population of any country in the world, with 240 million people. It is not on a continent, but spread out over many islands, covering a huge territory: its span from east to west is about the size of the continent of North America. Also, Indonesians' average age is still only 28, making it a very lively country, with a lot of potential for growth. In the last few years, sales volume in cars and motorcycles, which form the core of our business, has been going up and up, and it is expected that demand will continue to intensify as the middle class expands.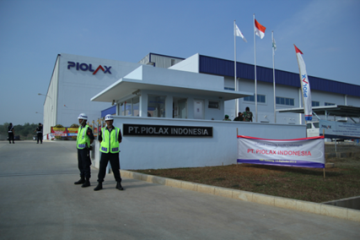 In such economic conditions, we went ahead into Indonesia, and, on September 12, 2013, in the beautiful weather conditions you can see in the photo, we had an opening ceremony with almost one hundred guests. Let me describe what it was like, and, in so doing, a little bit about the culture.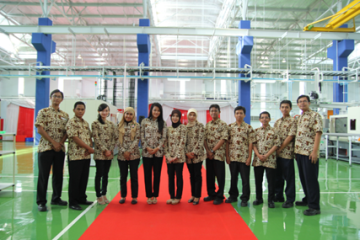 These are the employees who form the core supporting our business. Otherwise, counting the workers onsite and such, we currently have close to 30 employees. The shirts they are wearing are not the uniform; instead they are wearing "batik" patterned shirts (similar to Hawaiian shirts?), which are treated as equivalent to suits here. So some of our guests came in suits and neckties, while others came in batik. It was colorful and lively. Also, red and white ("merah/putih") cloth is hung for celebrations. This is similar to Japan, apparently since the Indonesian flag is red and white just like Japan's.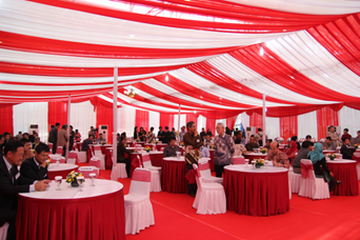 The ceremony started with a traditional dance from an elementary school dance team. This also brings out another feature of Indonesia. You may wonder how elementary school children can come to an opening ceremony held in the morning on a weekday. Apparently, it is because the elementary schools do not have enough classrooms, so students are split between morning and afternoon sessions. The afternoon students do not go home until around 7 pm. Perhaps this is fate in a developing country. Like the traffic jams, it suggests that the infrastructure still has a way to go.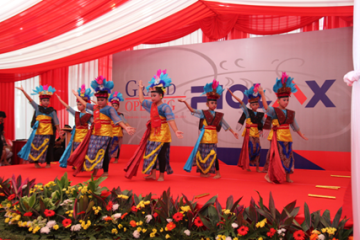 Then the ceremony arrived at the ribbon cutting—I want to say smoothly, but in fact a number of things did not go according to plan, so there was a lot of confusion along the way. Perhaps you have heard, but, for better or worse, there is a famous phrase that describes the sense of time in Indonesia: "rubber time." There may have been a number of rehearsals, I don't know, but it can be seen as a strength how flexible they were when things did not go according to plan. In any case, we realize that what we think is common sense in Japan may not be considered normal elsewhere in the world, and we have to take this on as part of our job.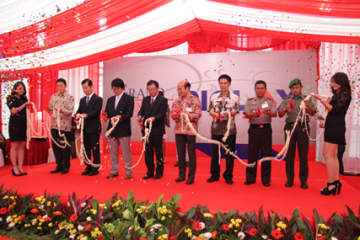 In the end, the opening ceremony concluded without issue, and soon the actual work will begin! The staff I mentioned are also very excited and are working hard with sometimes family-like cohesion. As we anticipate Indonesia's impending economic growth, we at PIOLAX INDONESIA intend to bring our characteristic youth and cheer to grow with it!
---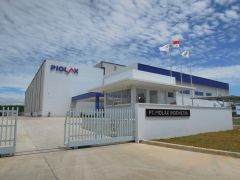 October 11, 2013
Special Correspondent in Indonesia: S
---