Three-day Trip in London and Cotswolds
No.2012_03 [ June 1, 2012 ]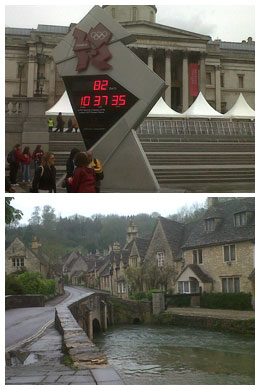 Already, four months have passed since my taking this post in the UK. I've visited many major cities in Spain and in Germany, but I have yet to set foot in the important capital city of London. Using a three-day holiday, I decided to see London, and to travel in the Cotswolds region which is very popular with Japanese tourists. My plan for the first day was to visit London. I traveled by car from Manchester, the centrally located city where the PIOLAX UK is established, to London. It was a four-hour drive to London, including one short break to rest.
On this day, I had promised to meet with a friend to enjoy dinner at a Japanese-style pub called Izakaya. It had been a long time since I had been able to go to an Izakaya. I got the feeling that Japanese food such as sashimi, tonkatsu and yakitori were very popular with British people. It is not inexpensive, but every shop seems to be doing a very good business. London is home to many Japanese restaurants, but the opening of Japanese restaurants is long-awaited in Manchester as well. If the soccer player, Shinji Kagawa goes to play with Manchester United, I believe that there will be an increase in the number of Japanese tourists, so I think that Manchester will be a city to recommend to Izakaya owners who are considering expanding overseas. Of course, the British people love Sushi; even questionable-looking kaitenzushi shops (revolving sushi bars) are running at full capacity.
On my second day in London, I took advantage of a sightseeing bus tour to get to all the main tourist spots. There was a clock in Trafalgar Square that shows the time left until the London Olympics. Moving at a quick pace, I was able to visit the Houses of Parliament familiar through the name of Big Ben, Buckingham Palace, West Minster Abbey and Tower Bridge. I really wanted to go to the British Museum, but unfortunately we did not have time due to traffic congestion in the city. In the evening, I went on to Cotswolds. After driving for an hour and a half, I reached my hotel. On the third day, I traveled around that city. Cotswolds still has buildings that are relics of ancient England. For that reason, of course, it is a highly popular tourist destination for travelers from Japan and all over the world. First, I visited the small village called Castle Combe. After that, I went to Bibury, and to a town called Cirencester, known as the capital of Cotswolds. I was so surprised that almost all of the buildings, as you can see in the photographs, remain from around the 16th century. That corresponds to the time of Nobunaga Oda and Hideyoshi Toyotomi in Japan. The UK does not have experience earthquakes as we do in Japan, so such stone structures remain as they were for more than 400 years. It was a very busy trip that lasted only two nights and three days, but it was quite fulfilling. I actually had a four-year old child with me at that time, so I hope this is useful information for those of you who have small children. Are these good suggestions for your visit to the UK? Next time, I'll report to you on the London Olympics from UK. Please keep your eye out for it.
---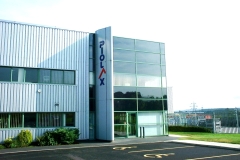 June 1, 2012
Special Correspondent in U.K.: K
---