What's PIOLAX?
PIOLAX is pursuing the possibility of "elasticity" in various fields.Therefore, PIOLAX leads the spring industry as a pioneer in creating "elasticity." Founded in 1933 as "Kato Hatsujo Seisakusho", PIOLAX celebrated its 80th anniversary on October 1st, 2013, and was listed on the first section of the Tokyo Stock Exchange on September 1st, 2004. PIOLAX started its business with production of precision metal springs for automobiles and electric/communication equipment. Then from late 1960's to early 1970's, it widened its development and production activities to fasteners made of plastic materials. As just described, PIOLAX continues to make progress as the only spring manufacturer that produces both metal and resin springs.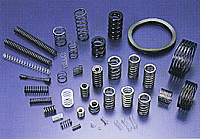 Concept
[What is elasticity?]
Elasticity is a characteristic of various bodies (solid, gaseous, or liquid) including metal to respond repulsively to stress added.
Probably, the word "elasticity" is not so common to be used in daily life. The word "elastic" may be more familiar and easier to understand.
"To be elastic" means a body produces "power" with help of its characteristic of "elasticity". This "elasticity" exists in metals, easily imagined as materials for "springs," and plastic bodies.
It is also found in plants in natural environment, as well as liquids such as water and oil, invisible gases, electromagnetic wave, and sound wave.
[What is fastener?]
The Japanese word "fastener" is generally used to indicate a "zipper" or "chuck." This is not wrong in terms of its original meaning.
"Fastener" refers to fastening or fixing equipment, that is, equipment to fix various parts (such as cables, boards, hoses, etc.) used in automobile manufacturing (and other industries).
[Company logo]

PIOLAX was named from the words "PIONEER", "ELASTICITY" and "X" meaning infinity. The logo color is a combination of marine blue, the image of Yokohama-city, and active red.