Greetings
Pioneer of elasticity
PIOLAX develops designs and produces various parts and products using "elasticity" technology. These parts and products are incorporated in various equipment, such as automobiles and those used in medical fields and daily life.
The fundamental policy of the PIOLAX Group is to use the science of elasticity with all kinds of materials to make wide-ranging contributions to industry and society.
"Best rather than biggest", "responsive to changes"
Founded in 1933 as "Kato Hatsujo Seisakusho", PIOLAX celebrated its 80th anniversary on October 1st, 2013, and was listed on the first section of the Tokyo Stock Exchange on September 1st, 2004.These achievements could not have been realized without the support of shareholders, business partners, finance institutions, and other many people involved. PIOLAX started its business with production of precision metal springs for automobiles and electric/communication equipment. Then from late 1960's to first 1970's, it widened its development and production activities to plastic fasteners. Currently, PIOLAX deals with all the domestic car manufacturers and truck manufacturers, and enjoys a leading share in various automobile parts as well as other products.
Towards globalization
PIOLAX is widely trading with overseas car manufacturers as well. For example, our air damper used for facilitating smooth opening/closing of a glove box holds the top share in the market, applied by major car manufacturers all over the world, including U.S. Big three, Mercedes-Benz and BMW in Germany, Jaguar, and Hyundai in South Korea. Recent years, we have been expanding our business to the fields of medical appliances and daily living equipment, in addition to automobile parts.
We will continue to capture diversifying customer needs as we work to be a creative and development-driven company that utilizes our core technology of elasticity.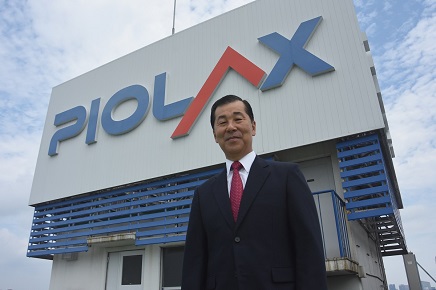 Yukihiko Shimazu President