Holding of Completion Ceremony of the PA
No.2016_06 [ November 14, 2016 ]
PA (Piolax Corporation USA, hereinafter referred to as PA) was established on August 8th, 1988 and marked its 28th anniversary this year. We manufacture and deliver automobile-related parts not only for Japanese companies, such as Nissan and Honda, but also for the Big Three – GM, Ford and FCA. Fortunately, our sales have been growing steadily, and almost quintupled over the course of the last 20 years. We would like to express our utmost gratitude for your support and kindness.
About a year and a half ago, because the warehouse space we had was no longer sufficient, a decision was made to build our own warehouse by using an area on the premises of our current plant. We decided to build an automated warehouse with a height of 58 feet (approx. 18 m), instead of a single-story warehouse commonly used in the United States, from the perspective of not only expanding warehouse space but also reinforcing security measures, promoting streamlined logistics and reducing labor costs.
In September last year, we held a Ground Breaking Ceremony (see the photo). We threw Sake and prayed before its start for safety throughout the construction.

It took one year for the construction of the automated warehouse to be completed. To commemorate this, we held a completion ceremony on Friday, September 30th, 2016 (the completed automated warehouse is shown in the back on the right-hand side of the photo, with the current plastic molding plant on the left side). We invited approximately 100 guests to the completion ceremony, including our clients who have been continuously supportive, local government officials, staff members of the Japanese Consulate General, parties related to Japanese companies, parties related to neighboring plants, and parties related to the construction. After our company's personnel gave a welcome, we received congratulatory speeches from our guests of honor, including the Mayor of City of Canton, the Consul-General of Japan in Atlanta and presidents of different car manufacturers. Following the speeches, our guests of honor put on Happi coats and conducted a "Kagami Wari" (a Japanese traditional ceremony for bringing good luck), using a Sake barrel procured in the United States.

Then, we ga ve a demonstration of our automated warehouse, ASRS (Automate Storage and Retrieval System). Guests observed the ASRS, which enables free movement within the warehouse rack. (The upper-right photo shows guests staring intently at the ASRS demonstration. The left and lower-right photos show the warehouse racks.)
Lunch was served after the completion of the ceremony and the ASRS demonstration.
Since guests drove to the event, only as a token gesture we made a toast with Sake. We had special Masu (square wooden boxes) with the PIOLAX logo ready for the toast, and gave one to each guest as some of the gifts to take home. As a Japanese company, we made sure to offer Nigiri Sushi, which was also well-received by our American guests.
On the day of the ceremony, the many attending guests included not only those from the local State of Georgia, but also those from Ohio in the north who came by air and those who drove for over three hours from neighboring Tennessee. We would like to take this opportunity to express our gratitude again. We thank you sincerely. Our company will mark its 30th anniversary in two years, on August 8th, 2018. As a "pioneer company specializing in elasticity," we will continue to work hard so that our products will be of use and value to our customers.
---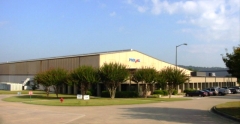 ---