Factory Expansion Started
No.2015_02 [ December 9, 2015 ]
PIOLAX INDIA PVT LTD was established and started the Trading of parts from Dec- 2009 and started supplying the parts from the PIOLAX Warehouses for North and south region customers. Gradually, PIOLAX India (PI) moved on to the manufacturing facility at No -200, North Belerica road, Sricity DTZ Chittoor district, Andhra Pradesh, India (about 90 kilometers from Chennai city) from March-2012. 3 years ago, the manufacturing facility was started with 30 employees and 14 injection molding machines. Now it has 100 employees and 25 injection molding machines. The manufacturing capacity has gone up by almost 78% in these years. From two customers, the company had grown to service 90 customers and the sales are continuously going up each year. PIOLAX India is localizing the parts on a regular basis and increasing localization ratio and meeting customer demands. When looking at the automobile scenario in India, the company has a good growth potential as every automobile manufacturer in the world is setting up a manufacturing plant in India. The automobile sector is looking forward to expanding their manufacturing facilities and sales. Our major clients in India, Maruti Suzuki and Renault-Nissan are really aggressive. On top of the demand from those major clients, we are aggressively looking for the business opportunities in India at Hyundai, Honda, Ford and others.

Considering the sales growth PI's current capacity is insufficient to meet the growing demand. Therefore Piolax India is planning to increase its capacity in Sricity itself by utilize the remaining space available for expansion. PI is going to add more injection molding machines to increase the capacity by almost 40% in 2016. With the newly proposed facility the company can add another 20 Injection molding machines. The PI management had recommended and investment of Rs. 200 million towards the factory expansion and the increase in capacity. PIOLAX India awarded the expansion project to Fujita Corporation (Fujita Engineering India pvt ltd). This year, 2015, marks the Factory expansion and Earth Breaking Ceremony on Monday the 26th October 2015 between 14:00 to 15:00 hrs and all staff took part in the Ceremony. The event started with the Pooja being done by the Pundits. They had dug a two feet hole in the earth and then offered prayers for Lord Ganesh. Then mother earth was prayed and they requested all the manager's to place the brick inside the hole.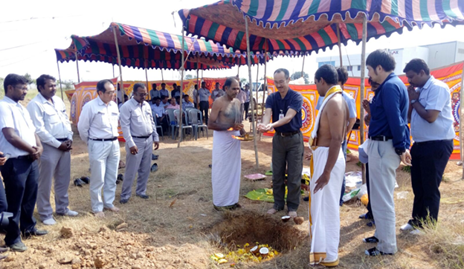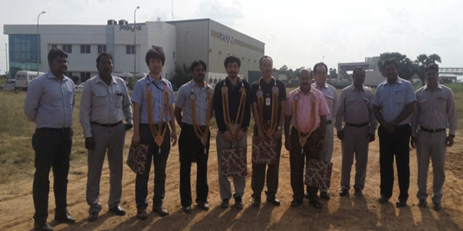 Factory expansion will be completed on May-2016. With newly-expansioned factory, we at PIOLAX INDIA give all our efforts to playing our role in overseas work for PIOLAX.
---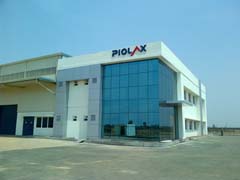 December 9, 2015
Special Correspondent in India: S
---